On 17-19 October 2022, Alzheimer Europe held their Annual Conference in Bucharest, Romania. The theme of the event was Building Bridges. In this blog, we are sharing the highlights of the Conference from a Scottish perspective.
The Alzheimer Europe Conference is a showcase of excellence across brain health and dementia which brought together people with dementia, their carers, volunteers and staff of Alzheimer associations, policy makers, health and social care professionals, researchers, academics and industry representatives from all over Europe and beyond.  It was an opportunity for all delegates to learn, share best professional practice and research among those with a shared vision of making life better for people living with dementia and those who care for them, now and in the future.
SDRC Member Researchers
At the Alzheimer Europe Conference, there was significant representation from Scotland. We are delighted at the number of Scottish based researchers who were speakers during the Conference, highlighting just some of the wonderful work that takes place across the country and from a variety of disciplines. Here's a summary of some of this research, click on the titles for more information:
Eileen Harkness-Murphy- University of the West of Scotland
Triple Jeopardy Outcomes of a learning project in a high secure mental health setting, to enhance care for people with mental disorder and dementia and who are detained.
Eileen's presentation was on research around dementia care education for nursing staff in a high secure setting. Eileen shared the outcomes of the learning project to enhance the care for older people with a mental disorder and dementia.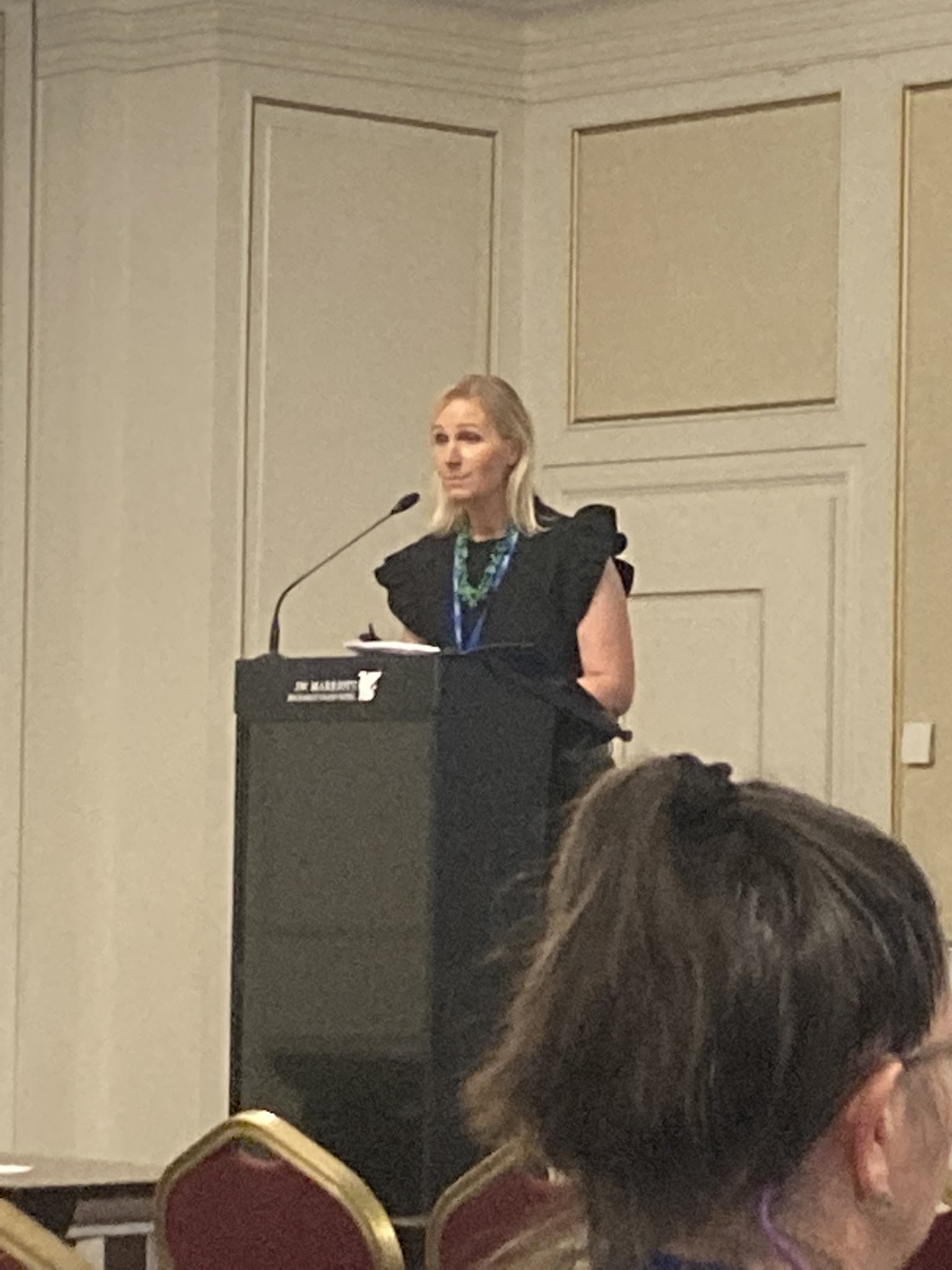 Stina Saunders- University of Edinburgh
Assessing and disclosing test results for MCI: The Perspective of UK Old Age Psychiatrists
Executive Committee member, Stina's research looks at the different approaches in assessing and disclosing test results for Mild Cognitive Impairment (MCI) and explores the implications of this. The aim of this study was to explore clinicians' views around the assessment and communication of MCI in memory clinics.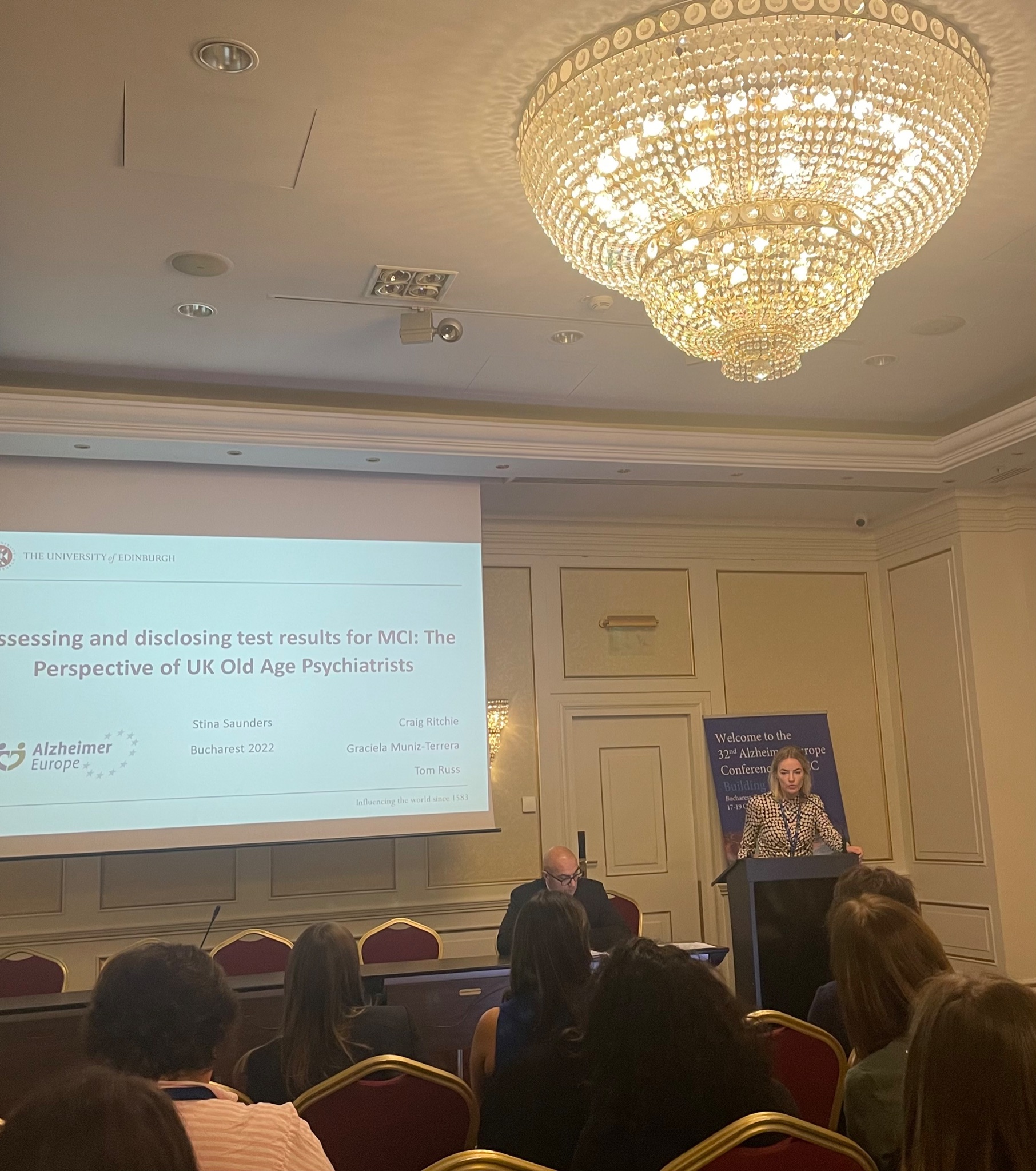 Rhoda Macrae- University of the West of Scotland
The health and care needs of people living with dementia in prison
This presentation shared the preliminary findings of an ongoing study that aims to identify and develop effective ways to improve the health and wellbeing of people living with dementia in Scottish prisons. Discussed were the current referral, diagnostic and post diagnostic healthcare pathways and ways in which staff try and meet the needs of people living with dementia.
Anna Jack-Waugh- University of the West of Scotland
People with dementia and their families as digital educators of the health and social care workforce during Covid-19.
Anna presented on how Dementia Champions- a workforce development programme for general hospital staff to facilitate development in knowledge and skills for Champions to become agents of change in their workplaces- shifted digitally during the Covid-19 pandemic.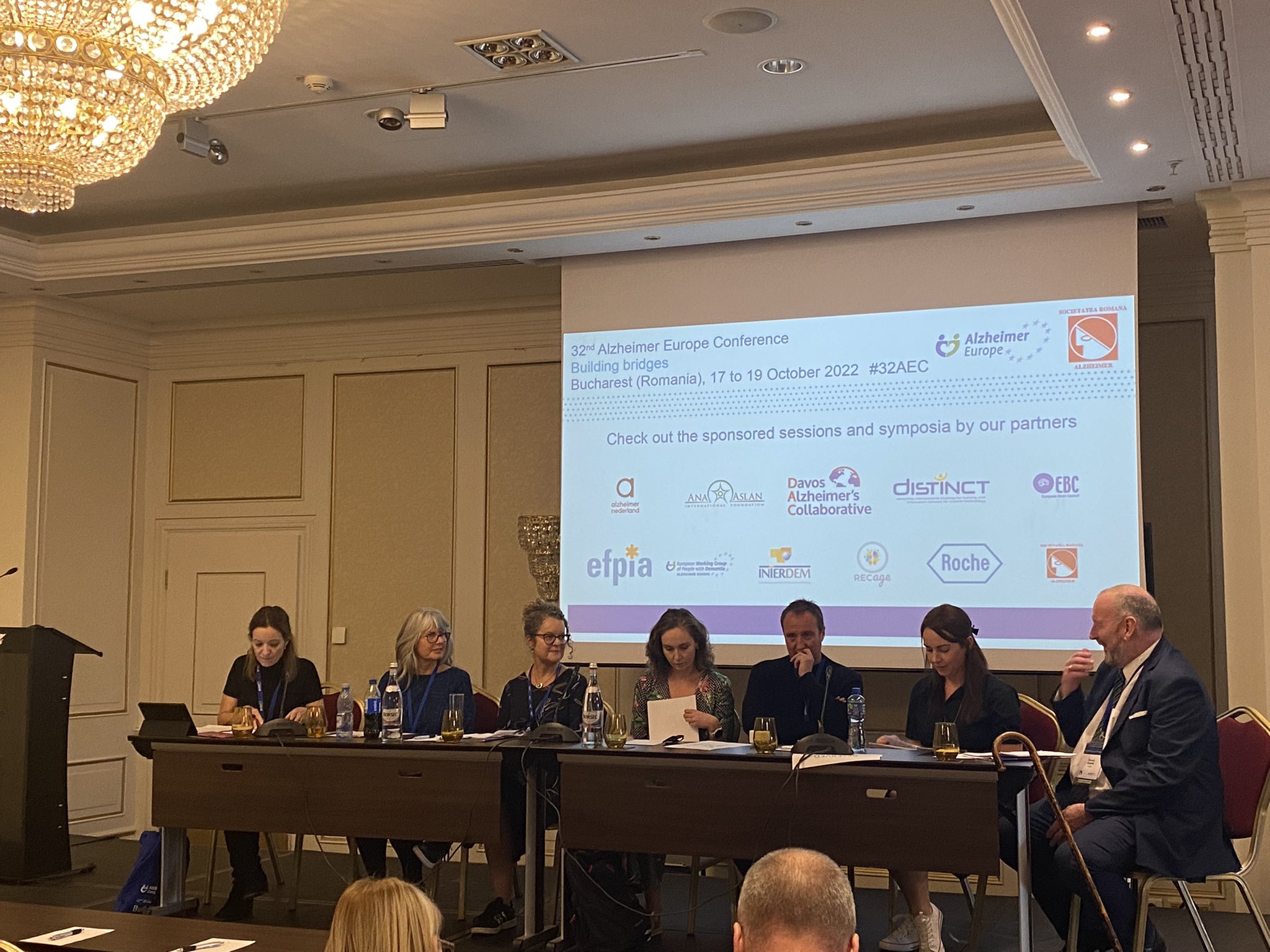 Karen Watchman- University of Stirling
Perspectives of couples with an intellectual disability when one partner has dementia.
Karen is part of a research team taking part in a two-year study in a previously unresearched area is to gain insight into day-to-day experiences of couples with intellectual disability when one partner has a diagnosis of dementia. The research will identify factors that support or affect sustainability in relationships, the findings of which will have implications for couples with a learning disability, families, health, allied health, and social care sectors.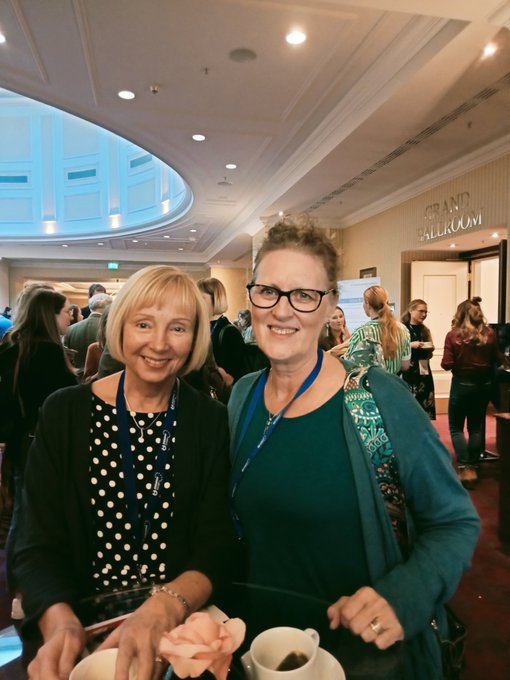 Karen with National Dementia Carers Action Network member Elaine Deehan
Carleen Smith- Scottish Dementia Research Consortium
The SDRC also had one of our own talks in the breakout session for (Inter)national Dementia Strategies. Not only did we have the opportunity to discuss the Scottish Brain Health and Dementia Research Strategy, we also shared some information on the work of the SDRC and the achievements of our wonderful research community- which was extremely challenging to do within 15 minutes!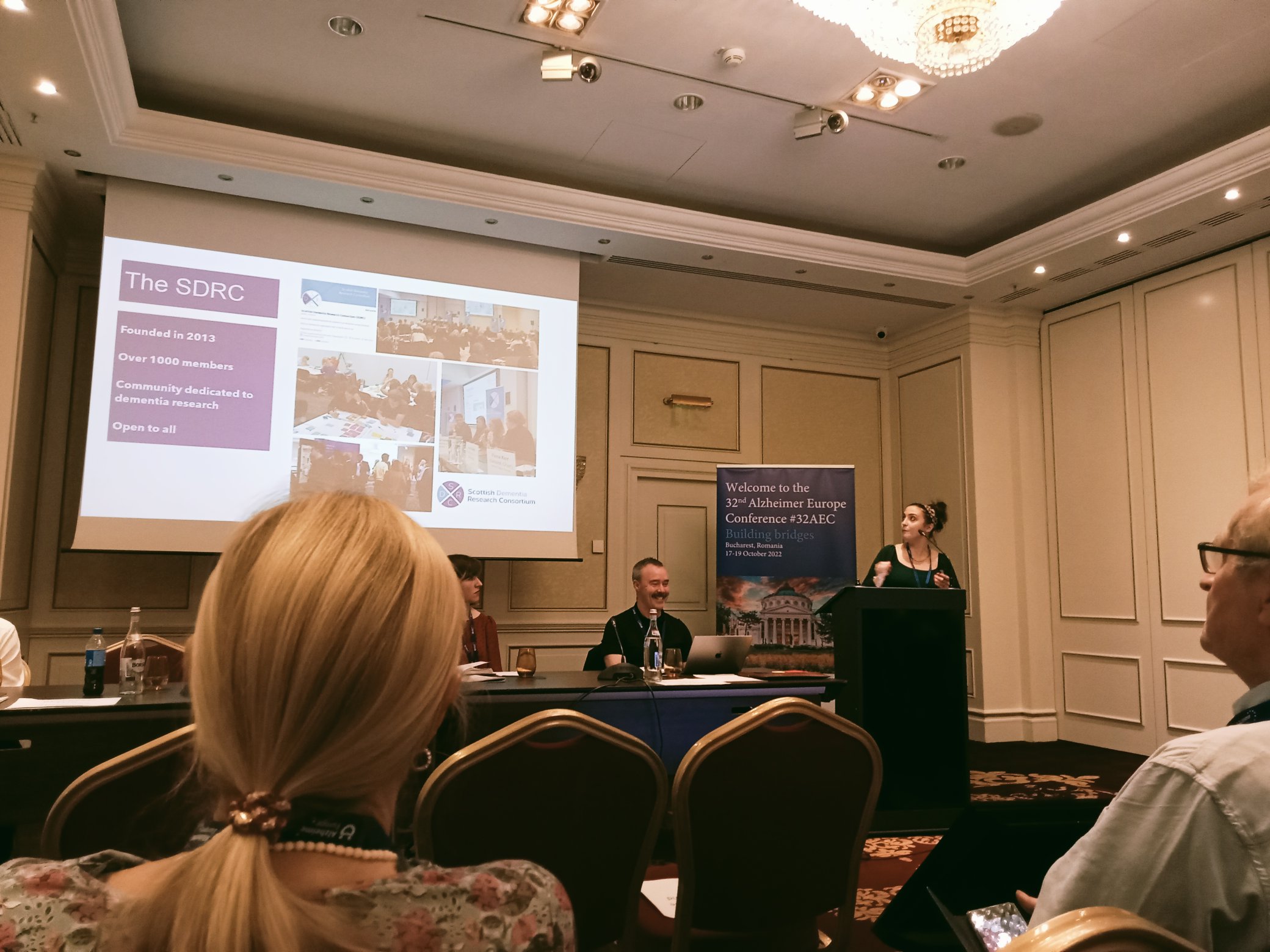 Other Presentations
In addition to research specific talks, there were also presentations from friends and collaborators at Alzheimer Scotland.
Nikki Lorimer
Building Positive Educational Partnerships
Nikki presented on a collaborative project between Alzheimer Scotland and the Universities of Dundee and St Andrews. It is part of ScotGEM, a fast-track scheme which trains graduates to become general practitioners in rural areas in Scotland. Alzheimer Scotland's role in this project is to facilitate placements for students to gain an understanding of dementia and learn more about people with dementia's experiences, which will enhance their practice after they graduate.
Jennifer Hall
Help in Covid Times – A Trauma Informed Approach to Helpline Practice
This presentation described how Alzheimer Scotland's Dementia Helpline responded to the distress encountered during the lockdowns related to the Covid-19 pandemic.
The presentation also discussed "trauma informed practice", an evidence-based framework that built resilience and understanding of a trauma informed lens amongst the Helpline team which positively impacted helpline practice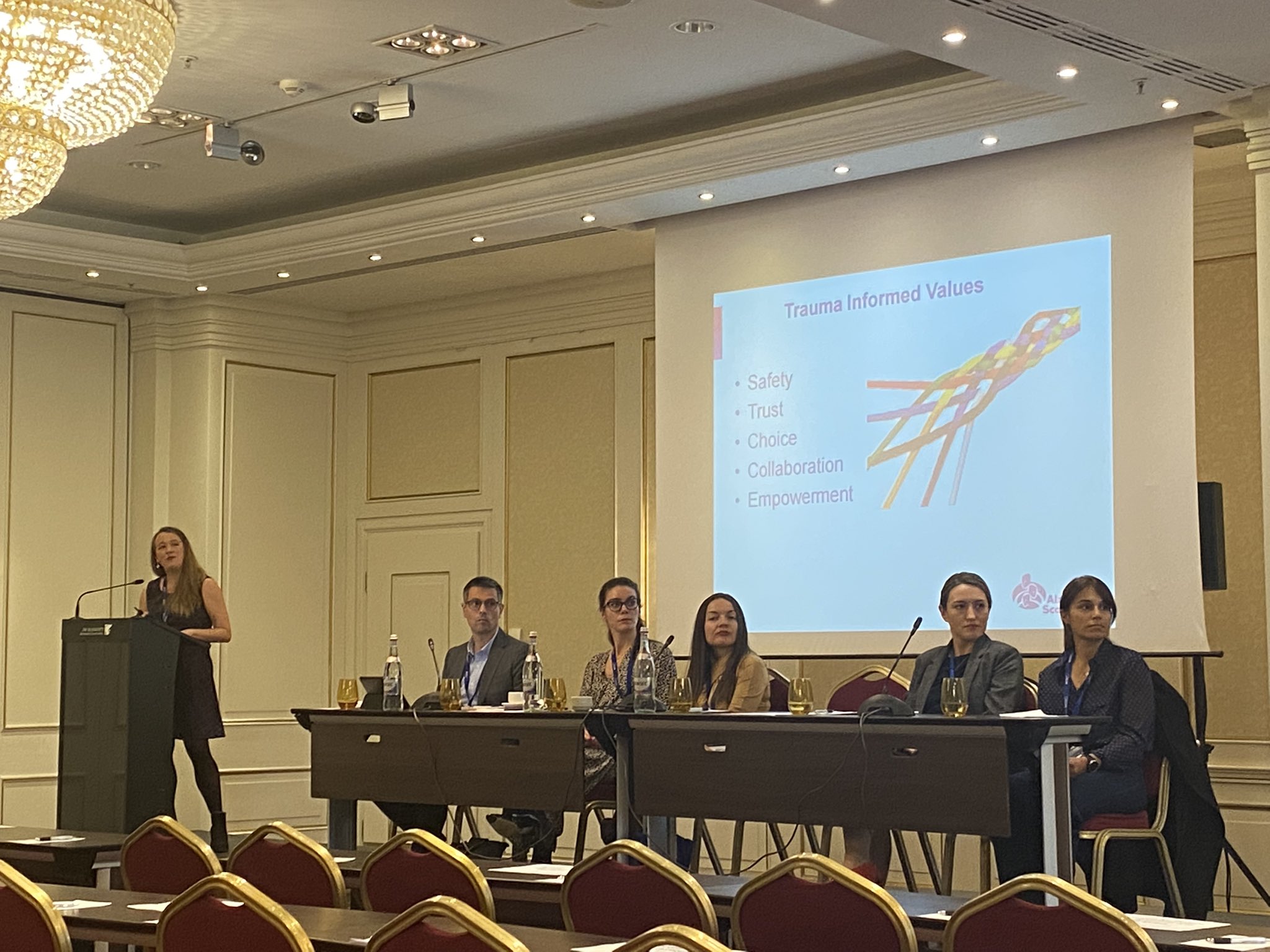 —
Thank you to Alzheimer Europe for organising such a wonderful event, we really appreciate the hard work you put in to making this Conference such a success. Looking forward to next year already, see you in Helsinki!
Meet the rest of the Executive Committee
Our SDRC Executive Committee are researchers and contain representation from different career stages, institutions and research disciplines. They are active in supporting the work of the SDRC and dementia and brain health research more widely
Click Here