SDRC Conference 2023
The 8th Annual Scottish Dementia Research Consortium (SDRC) Conference was held on the 25 and 26 April 2023 at the Radisson Blu Glasgow. Here, we celebrated the 10-year anniversary of the SDRC.
The two-day Conference, titled "Looking back and looking forward", marked the achievements of the SDRC and the wider brain health and dementia research community over the past decade and discussed plans for the future.
The content of the mains sessions included a mix of lectures, presentations, workshops, and breakout sessions to discuss topics in greater depth. The refreshment and lunch breaks included poster presentations from SDRC researcher members and exhibitor stands from organisations across the country.
Ongoing research across Scotland
The SDRC Conference 2023 provided a broad platform for sharing brain health and dementia research activity. On the first day, members of the SDRC Executive Committee updated on ongoing research and achievements on their respective research themes: Diagnosis, Fundamental Science, Living with Dementia, Informatics and Technology, and Prevention.
From beyond the SDRC, we also heard from research partners and friends from around Scotland: Alzheimer Scotland, Brain Health Scotland, SINAPSE, SULSA, Neuroprogressive and Dementia Network, ENRICH, Alzheimer's Research UK.
There was a broader discussion about brain health and dementia research activity beyond Alzheimer's including delirium, Parkinson's, small vessel disease, stroke and traumatic brain injury.
The conference, as with every year, provided an opportunity for early career researchers to share their research findings. In addition, over both days there were presentations from those with lived experience, including participation from people living with dementia and carers.  Read: Flash report from National Dementia Carer's Action Network (NDCAN) and the Scottish Dementia Working group (SDWG) about their experience at the Conference who shared their experience from the perspective of people with dementia and carers
Celebrating achievements
The SDRC Conference gave a spotlight to specific researchers and their achievements.
On day 1, the Most Published Prize, was awarded to Professor Craig Ritchie, for publishing the highest number of papers in brain health and dementia research in Scotland in 2022.
On day 2, the Early Career Research prize, which was awarded through an open nomination process with the winner selected by SDRC Executive Committee members. The recipient was Dr Laura McWhirter.
There were also on-the-day prizes given out to researchers: a best poster prize for each day and a best ECR speaker prize for each day. The poster prizes were won by Nicole Edwards and Lisa Davison, and the speaker prizes were won by Rose Penfold and Una Clancy.
Another exciting announcement that we made at the Conference was the recipient of the Alzheimer Scotland Student Research Programme funding. This aim of the Programme is to fund an Masters level MRes programme, with the successful applicant chosen by a selection panel made of people with lived experience of dementia. The recipients are Dr Anna Jack Waugh and Dr Eileen Harkess-Murphy from the University of the West of Scotland. This project will centre around trauma-informed approach to dementia diagnosis. We will be sharing more details on this shortly.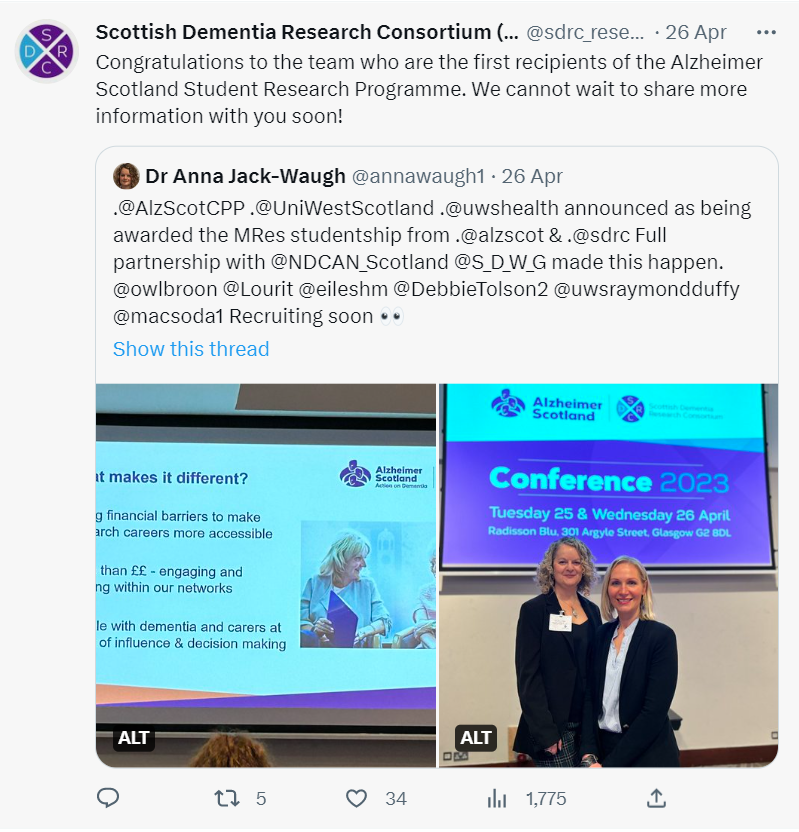 Congratulations to everyone who were awarded prizes at the Conference!
Looking ahead
Particularly on the second day of the SDRC Conference 2023, the programme dedicated a lot of time at discussing plans for the future with attendees.
Dr Terry Quinn, SDRC Chair launched the Brain Health ARC. This is a Scottish Funding Council research programme which aims to create and support new collaborations with a shared vision of improving brain health and ultimately finding solutions to the societal challenges associated with brain ageing.
The Conference ended with four breakout sessions, each with a difference focus, including how to support early career researchers, SIGN guidelines and the Brain Health ARC. The overarching theme of these sessions was to gather insight from delegates on how we make Scotland the best place for research to grow even more and to improve the lives of people affected by dementia.
Networking and collaboration
We are so pleased with the numbers of our community who attended the SDRC Conference 2023, over 180 people. Delegates included researchers of all disciplines and career stages, clinicians, care providers in other stakeholders in the field of dementia research.
We were mindful that, in addition to the main sessions, there was plenty opportunity for these attendees to network, learn about others' research and form new collaborative partnerships.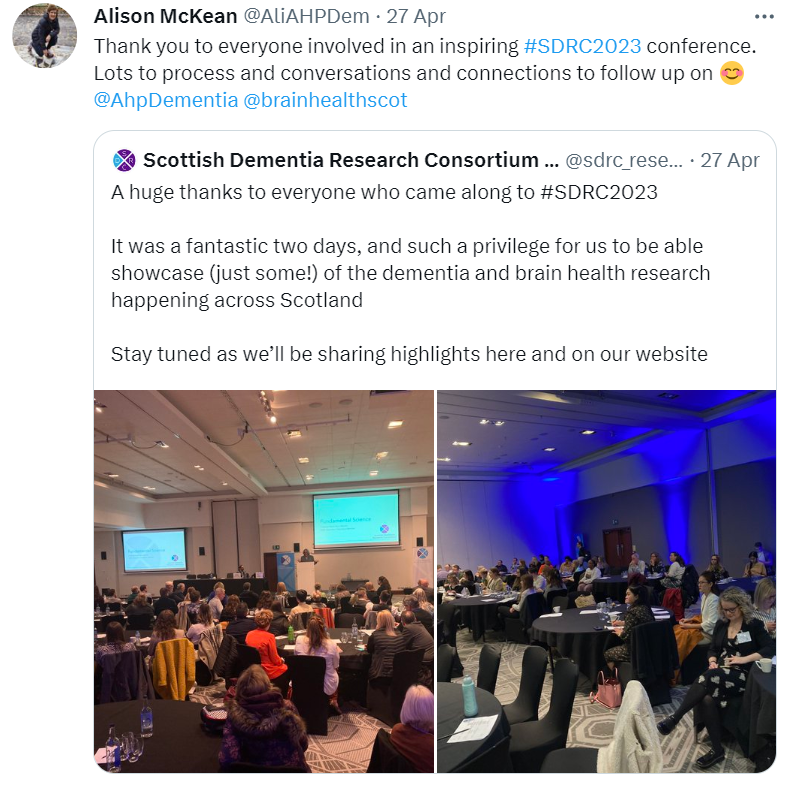 More updates coming soon
Keep an eye on our social media and website as we have a lot of video content of the Conference to share which will give a greater insight of the work of the dementia and brain health research community in Scotland.
Thanks to everyone who attended the SDRC Conference 2023, and thanks to everyone who made it such a success. If you have any feedback please let us know
We look forward to seeing you all again next year!
Past SDRC Conferences
Take a look back at previous years' SDRC Conferences. We have photos, videos and summaries of the discussions on the day.
Webinar Series
The SDRC webinar series feature world-leaders and contain a wealth of information on a variety of topics, including on brain health and dementia research topics and career advice.  
What else have the SDRC have been up to lately?
Visit our news and blogs sections to learn more about SDRC activity and the work of dementia and brain health researchers across Scotland
Latest News