Every year, the SDRC host an Annual Conference. This is an opportunity to share the work of the SDRC throughout the year and also to celebrate the achievements of our research community, including that of early career researchers. 
Click here to out information on our upcoming Annual Conference.
See below summaries and media from our most recent Conferences.  
The 7th Annual SDRC Conference was a two-day event, on 9th and 10th May 2022. It was held at the Radisson Blu in Glasgow.
We were delighted to be getting back to in-person meetings following the previous two Conferences being online-only due to the pandemic. Attendees seemed to greatly enjoy the opportunities for meeting new people, sharing ideas and networking which hasn't been able to take place over the past couple of years.
The theme of the Conference was around the diagnosis and detection of dementia. In the early stages of planning the meeting it was clear that in Scotland we are spoiled for choice when it comes to innovative and impactful diagnosis research. We put together a scientific program that should have something for everyone and mixes traditional lectures, with quick fire presentations, workshops and debate. As always with SDRC meetings, we highlighted the incredible work of our early career researchers and we ensured there is plenty of time for more junior researchers to learn, present and network.
From the presentations were heard throughout the two days, the overarching theme was that the research being discussed was "only the start". The ambition for all researchers is that their work will not be confined to academic journals. For example, their findings will lead to further research, it will form an evidence base which will change practice, will form part of an education programme in the health and care sectors.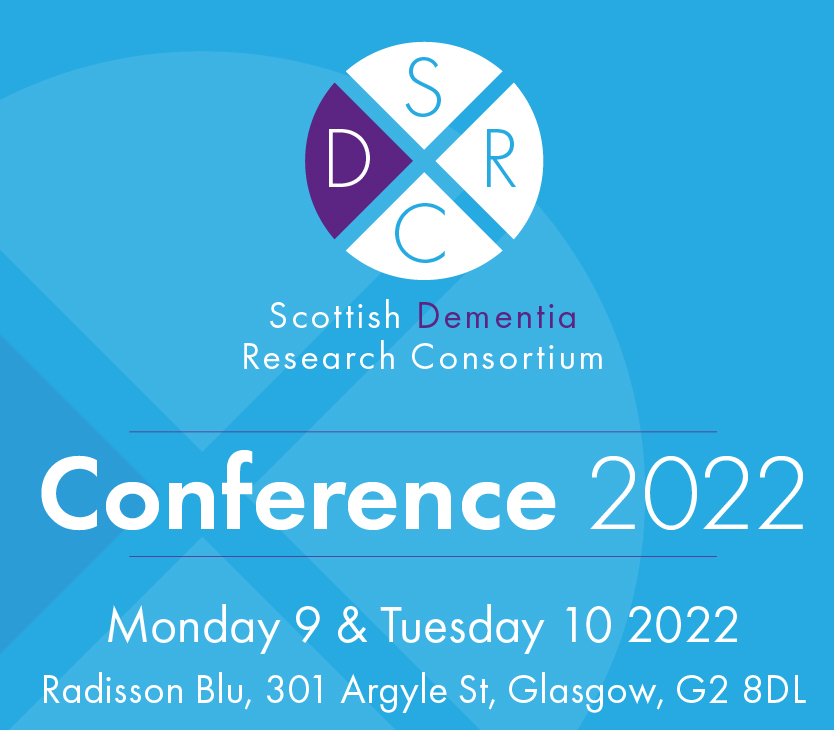 Monday 9 May 2022
Item
Summary

Welcome and housekeeping

Terry Quinn

Executive Committee Member of the Scottish Dementia Research Consortium

University of Glasgow

Terry Quinn, who led the organisation of the Conference, opened the day.

SDRC: What have we been up to?

 

Craig Ritchie

Chair of the Scottish Dementia Research Consortium

University of Edinburgh

Craig provided an update on the SDRC over the past year. This included announcing the release of the latest SDRC Annual Report. The report provides an update from each of the key areas of research including: Diagnosis; Fundamental science; Living with dementia; Prevention and Informatics & Technologies. The mapping goes into detail of the achievements of dementia and brain health researchers based in Scotland throughout 2021. This includes the number of active researchers, grant awards, published papers and international collaborations.

A summary of the results are as follows:

·       We attracted £16 million in research grants, double the figure of last year

·       Over 500 Scottish-based researchers either contributed to a research paper or had been part of a grant application, which includes 70 PhD students

·       Researchers published almost 230 papers

·       We collaborated with 1400 international researchers in 44 countries

Craig also provided an update on the progress of the Scottish Brain Health and Dementia Research Strategy, which launched in July 2021. A National Oversight Board, which will monitor local progress of the strategy, was established and is Chaired by Henry McLeish, who delivered the keynote address at the end of the first day of the Conference.

 

Update on Brain Health Scotland

Neil Fullerton

Project and Communications Lead

Brain Health Scotland

 

Neil's presentation summarised the work of Brain Health Scotland. These included

Risk factor surveillance report 2021. A survey conducted which asked people across Scotland, highlight the importance of taking action in three key areas central to maintaining good brain health including getting enough sleep, managing stress and avoiding social isolation.

My Brain Health Plan. People can get personalised advice on maintaining their brain health by taking an online quiz available on the Brain Health Scotland website. Users can also make a brain health pledge, pledging what changes they can make to their lifestyle to protect brain health.

Online Course. Brain Health Scotland recently launched an online course, developed with researchers and experts. It will educate on the benefits of lifelong physical activity for maintaining brain health and reducing disease risk.

J'accuse dementia diagnostic research

Terry Quinn

Executive Committee Member of the Scottish Dementia Research Consortium

University of Glasgow

In this Plenary session, Terry discussed what works and what doesn't in dementia diagnosis and why more research is important. How dementia diagnosis research translates into the real world.

Accuracy of diagnostics tests, not just on what they are specifically measuring but in reaching an appropriate diagnosis. Of theundreds of potential diagnostic tests, how are they routinely used? What are most optimal?

 

Early Career Researcher Presentations

 

This session was chaired by Dr Fiona Kerr, from Edinburgh Napier University who introduced four Early Career Researchers who each gave 10-minute presentations on their work.

Danni Gadd

University of Edinburgh

Danni's research focussed on blood markers and brain ageing.

These biomarkers markers may help us determine brain health as Danni's research shows the possibilities of monitoring changes in blood proteins to help detect dementia risk.

 

 

Zara Franklin

University of Aberdeen

Lab-based research looking into the parts of the brain that affect memory, on studies based on mice.

Alzheimer's and diabetes share several important features including amyloid accumulation, impaired insulin sensitivity, and inflammation. Zara's research looks at how an Alzheimer disease risk gene called BACE-1 affects brain region. It also looks to find a link between diabetes and Alzheimer's, by investigating how BACE-1 expressed in the brain.

Clair Gamble

University of Dundee

Strong evidence already exists that hospital care is suboptimal for people with dementia. Clair's research investigates why this may be. The research evaluated what the knowledge of dementia was among healthcare professionals. It also measured attitudes towards dementia. The findings show that more education is necessary among this group.

 

Mohamed Elsharkasi  

Glasgow Caledonian University

Lab-based science looking at how specific biomarkers affect the brain. Specifically, the work of NRF-2 which is a protein that protects the brain from damage.

Breaking bad (news) – giving and receiving a diagnosis

This was a themed session, which focussed on giving insights on delivering a diagnosis of dementia from different perspectives. It was chaired by Prof Debbie Tolson from Alzheimer Scotland Centre for Policy and Practice, University of the West of Scotland and SDRC Executive Committee Member

It involved insightful presentations followed by thought provoking discussion between presenters and the audience.

The main themes of the presentations were how to develop standardised diagnostic guidelines, how to prioritise a personalised approach, how to respect the rights of the person being assessed.

Suzanne Gray

NHS Tayside

Suzanne's research focus is with people who live with a diagnosis of frontotemporal dementia (FTD). The aim of this study was to explore and understand the experience of living with a diagnosis of FTD.  Interviewed participants who shared their experiences.

Suzanne investigated what it was like for people with FTD, from getting symptoms seeking explanations, getting assessed and how the assessment process felt. Then once diagnosed, what information did they receive about the condition.

 

Stina Saunders

University of Edinburgh

Stina gave the audience an insight to her research on the diagnostic disclosures in people with mild cognitive impairment (MCI) – a state between normal healthy ageing and dementia which has an uncertainty of prognosis.

It is important to consider the implications of what it would mean to inform an individual of their MCI status and risk of dementia with our current knowledge of how we define, assess and treat the condition.

Emily Ball

University of Edinburgh

Emily conducted a survey of healthcare professionals on predicting dementia at the time of a stroke.

The survey findings asked healthcare professionals if they are aware of risk factors associated with post-stroke dementia, if it it could be beneficial to discuss risk of dementia at the time of stroke.

The survey findings found that healthcare professionals do not routinely discuss dementia risk with patients at time of stroke, stating that they think that 1-6 months after stroke was the most appropriate time to discuss risk of dementia.

 

Jennifer Waymont

University of Edinburgh

Jenny discussing her work with Brain Health Scotland on the Scottish Cognitive Clinics Census 2021. The aim of this research was to gain an overview of current landscape of clinical services for the assessment of cognitive complaints in Scotland

The findings of Jenny's work found what was already suspected, that dementia assessment services were inconsistent across the country with significant variation in clinical practice.  Jenny's work also Identified possible reduced availability of services for early detection and/or prevention of neurodegenerative disease. Recommendations to come from this scoping have been sent to Scottish Government and Brain Health Scotland will continue this work.

Updates from Scottish Neurological Research Fund Grant Winners 

This session featured updates from Early Career Researchers who were all recipients of grants from the Scottish Neurological Research Fund (SNRF). Prof Frank Gunn-Moore SDRC Executive Committee Member and also Chair of the SNRF chaired this session.

Sarah Gregory

University of Edinburgh

Cardiovascular risk factors for dementia and other neurological conditions. For example, type 2 diabetes and obesity

 

Eileen Harkness-Murphy

University of the West of Scotland

Describing the importance of applying trauma informed principles to help prevent reoccurrence of trauma for people living with dementia.

Research involved Alzheimer Scotland's 24 hour helpline staff responses of carers and people living with dementia. These calls were anonymised to assess the extent wo which trauma informed principles are evident within helpline staff responses

Annesha Sil

University of Aberdeen

Some types of Parkinson's Disease (PD) affect cognition, and make up 2% of all dementias. Exposure to air pollutants, including certain types produced from industrial and fuel exhausts, is now a major risk factor for dementias including PD. Annesha's research is currently being done in vitro, i.e in petri dishes. The future of this research will involve human participants.

 

Helena Chaytow

University of Edinburgh

Helen's research focus is mainly in Amyotrophic Lateral Sclerosis (ALS), known more widely in the UK as Motor Neuron Disease. The study looks at whether repurposing the drug Terazosin, currently on the market medication used to treat symptoms of an enlarged prostate and high blood pressure, for people with ALS.

Lab-models are promising but more work needs to be done to see how this would help people living with ALS.

 

Keynote

 

The keynote speech was delivered by Former First Minister Henry McLeish.

Henry led chaired the group who wrote the Fair Dementia Care Report and led the subsequent policy campaign. Henry is also Chair of the Oversight Board of the Scottish Brain Health and Dementia Research Strategy.

In Henry's address, he discussed both of these roles, as well as sharing his own experiences of caring for someone who had dementia.

 
Tuesday 10th May 2022
Item
Speakers

Welcome and housekeeping

 

 

 

 

Update on Alzheimer Scotland

 

 

 

 

 

 

 

 

 

Terry Quinn

Executive Committee Member of the Scottish Dementia Research Consortium

University of Glasgow

 

Henry Simmons

Chief Executive

Alzheimer Scotland

Henry updated Conference delegates on the work of Alzheimer Scotland, and how they support people living with dementia.

Henry also discussed plans to raise the profile of dementia research in Scotland as part of Alzheimer Scotland's ambition to promote all aspects of their work in prevention, care and cure of dementia.

Update on ENRICH

 

Maria Drummond

Senior Clinical Studies Officer

ENRICH Scotland

Enabling Research in Care Homes (ENRICH) is a programme which aims to maximise the amount of research happening within care homes.

 

It is a multi-disciplinary team of professionals from nursing, social care, psychology and medicine with a passion for improving access to research for care home staff, residents and their families

 

Update on NHS Neuroprogressive and Dementia Network (NDN) Activity

 

Tom Russ

Executive Committee Member of the Scottish Dementia Research Consortium

Director, Alzheimer Scotland Dementia Research Centre

University of Edinburgh

Emma Law

Network Manager

NHS Neuroprogressive and Dementia Network

The NDN provided a summary of their Strategy which launched last year. The strategy lays out how the Network will involve, engage with, and support people with lived experience of neuroprogressive conditions or dementia.

This includes their Partners in Research programme, in which research participants who will collaborate in creating meaningful involvement of people with lived experience into research programmes including in reviewing project submissions and ethics applications.

 

Technology for diagnosis

Leah Macaden, SDRC Executive Committee member, and from University of the Highlands and Islands, chaired this session of the Conference.

 

Roma Maguire and Kieren Egan, from the University of Strathclyde discussed their research into technology can be used enable and support health, wellbeing & carer resilience. Emphasising the important of having an evidence base to ensure digital health technology works for people living with dementia and has the biggest benefit.

New horizons in neuroimaging

 

Roger Staff

NHS Grampian

Roger discussed what brain imaging can tell us about the parts of the brain are affected by cognitive, functional and motor changes. This is done through analysing images of the brain over time and how this corresponds to the presentation of frontotemporal dementia.

 

 

Early Career Researcher Presentations

Terry Quinn chaired this session – where three Early Career Researchers each gave 10-minute presentations on their work.

 

Louis Dwomoh

University of Glasgow

Louis works om developments in treatment for Alzheimer's Disease, creating more safe and effective treatments. It is lab-based research which identify and target more specific parts of the brain which will treat the underlying disease and not just the symptoms. Louis' work specifically targets something called the M1-Muscarinic Acetylcholine Receptor.

 

Donncha Mullin

University of Edinburgh

Donncha's research measure the way we walk to predict brain issues.

Motoric Cognitive Risk (MCR) syndrome is slow gait speed and subjective cognitive complaint, in the absence of functional impairment or dementia. It can be a useful prognostic tool for issues such as cognitive impairment, dementia, falls and mortality.

 

Carmel McKenna   

Technological University of the Shannon

This presentation discussed Carmel's work around community engagement for people with dementia through Irish dancing. The research assesses the benefits of a pilot of ceilidh dancing adapted for people with dementia and their carers. It was found there were many benefits to the pilot, including creating positive experiences making memories feeling included and a sense of connection.

 

 

Early Career Researcher Presentations

After the lunch break Dr Catherine Pennington from the

University of Edinburgh chaired the second ECR session of day 2.

Hannah Morrison

University of Edinburgh

Research participation assists new treatment trials progress Hannah investigates the issues in research recruitment and retention and understanding and then targeting barriers and facilitators is crucial.

Hannah found that barriers that prevent people from taking part in research studies. These include location, time, financial concerns.

 

Jodi Watt

University of Glasgow

Prediction of dementia outcomes is a challenge in both research and clinical environments

Possible early-stage markers of altered brain health can be detected by certain MRI scans. However, they are limited in their prognostic ability when used individually.

Jodi's research works on the Brain Health Index (BHI) which is created by models based on data collected from many people. Aims of subsequent work on BHI. Compare how BHI compares to more established models and assesses the validity and feasibility of BHI for predicting future dementia

Early results within UK Biobank suggest a decrease in BHI with age in healthy subjects, which may be significantly lower in male subjects

Early results lend support to the hypothesis for future studies that BHI may be significantly lower in subjects with neurovascular and neurodegenerative diseases

 

Holly Spence

University of Aberdeen

Using data from the Aberdeen Birth Cohort, Holly's research looks at Cognition and Brain Iron in Grey Matter and Hippocampal Subfields

In those without neurodegenerative disease, brain iron is not strongly associated with cognitive ability.

The presence of pathology may be needed for iron accumulation to reach levels necessary to affect cognition

Iron starts accumulating more rapidly from around 60years of age.

 

 

Themed session – debate

 

Tissue makers are mandatory for dementia diagnosis

 

 

 

 

 

 

Graham MacKay from NHS Health Scotland, chaired this debate on whether tissue markers should be mandatory to make a diagnosis of dementia.

Craig Ritchie was the proposition, arguing for.

Chair of the Scottish Dementia Research Consortium

University of Edinburgh

 

Arguing that nothing is every absolute, we must be person centred. Provide individualised responses

 

Jenny McCleery of Cochrane Dementia was on the opposing side.

 

The session concluded with a vote on who won the debate, which was almost unanimously in Jenny's favour!

 

Most published 2021 award

 

Dr Terry Quinn was awarded the most published author in 2021. This means that in 2021, Terry was the researcher based in Scotland who contributed to more papers that were published in academic journals than any other researcher in the same period.

In this talk by Terry, he shared his top tips on how to get published. He also went through his own career, including the many rejections and setbacks along the way that have led to and shaped his success.

 

Updates from Scottish Neurological Research Fund grant winners

Prof Bettina Platt chaired the second session featuring SNRF grant recipients.

 

Matthew Broadhead

University of St Andrews

The Role of Tripartite Synapses in Amyotrophic Lateral Sclerosis. Matthew's research into whether selective loss of synapses contributes to ALS in mouse models. He is interested in the structure and function of synapses between neurons in the nervous system, and how glial cells interact with synapses in Motor Neuron Disease.

 

Aileen Wong

Glasgow Caledonian University

Aileen investigates retinal cholesterol homeostasis in an Alzheimer's disease mouse model.

What certain cells affect amyloid production. This is hoped to offer new insights into what causes visual defects related to Alzheimer's disease.  Also how certain drugs, known as ligands, work to reverse the pathology of Alzheimer's disease and bringing new insight in treating patients.

 

Simon Sharples

University of St Andrews

Reduced expression and impaired dynamic function of sodium-potassium ATPase pumps in ALS

 

Martin Taylor-Rowan

University of Glasgow

Exploring the association between physical frailty, brain frailty and long-term cognition in stroke. What is the association between frailty at the point of a stroke event, the demonstration of lower cognitive scores up to 1 week after the stroke event

Martin found that frailty as a possible target for future interventions to prevent long-term cognitive problems following stroke, this design will be repeated design using larger datasets (R4VAD; VISTA; UK Biobank)

 

Mizuki Morisaki

University of St Andrews

Mizuki's lab-based research investigates whether a protein called alpha-amylase (sAA) is a potential drug target for Alzheimer's disease. In vitro, it was found sAA protected neurons against Alzheimer's disease model and had a range of other promising results.
The 2021 Scottish Dementia Research Consortium (SDRC) conference took place on the 16th June 2021. Once again, due to Covid restrictions, it was an entirely virtual event.  
Professor Craig Ritchie, SDRC Chair, chaired the day. He announced the launched of the SDRC Annual Report and gave a preview of the Scottish Brain Health and Dementia Research Strategy.
Our first plenary session was by Professor Edo Richard from Radboud Medical Center, Netherlands titled Prevention of Dementia: from observations to interventions. One of the many advantages of an online conference is bringing in global expertise from researchers around the world!  
We also held three breakout sessions where delegates took part in discussions on various topics. These sessions were:
Behavioural Sciences: Explaining, Retaining and Sustaining Risk Factor Management,

Delirium and delirium prevention (dementia prevention by any other name…)

Understanding Dementia: Class in a Bag 
During the launch break, our virtual conference platform, which was hosted by the Edinburgh International Conference Centre (EICC), allowed delegates the opportunity to network and speak with each other through meeting rooms and private chat. 
Like previous years, the majority the afternoon sessions of the conference put the spotlight on our early career researchers from all disciplines who presented their current work.
Last but not least, the Conference closed with a session from Brain Health Scotland. 
We are so grateful to all the presenters, organisers and, of course, all of our delegates who attended. We hope to see as many of you as possible for our 2022 Conference, and we'd be delighted to welcome new and returning faces too!
Be the first to know about future SDRC Conferences
The fifth annual Scottish Dementia Research Consortium (SDRC) conference was held on Monday 7th September 2020, online and free for all SDRC members.
The 2020 SDRC Conference, titled "Unlocking the mysteries of data" discussed informatics and how it is used and brain health research, from prevention, diagnosis, to helping to improve the lives of those currently living with dementia. We also held three breakout sessions where delegates could listen to presentations on topics of their choice, with opportunity to ask questions, contribute to discussions and share ideas.
In the second half of the conference, heard from from PhD students and early career researchers from all disciplines who presented their current work.
Our virtual conference space will also featured exhibitors and poster displays from reseachers and organisations relating to dementia and brain health.
The fourth annual Scottish Dementia Research Consortium (SDRC) conference was held at the Radisson Blu in Glasgow on Monday 15th April 2019.
Over 150 people attended including members of the SDRC and members of the public with an interest in dementia research in Scotland.
The SDRC Conference showcased the world-leading dementia research taking place across Scotland. We focused on the exciting, and often unusual, research that takes place in laboratories that helps to improve our understanding of dementia and potentially discover new treatments.
We also provided opportunities for PhD students, postdoctoral researchers and others at the early stage of their research career from all disciplines to contribute to discussions and share their ideas.
The Conference was a fantastic success and we would like to thank all the speakers, presenters and everyone who came along.
Be the first to know about future SDRC Conferences
SDRC Conference 2018
The SDRC conference in 2018 brought together dementia researchers from all disciplines, and at all stages of their career. It was a fantastic opportunity to find out more about world-class research happening in Scotland from leaders in their field. What made this event special, however, was the input from Early Career Researchers, who informed other delegates of their ongoing research and the impact it is having.
The conference was a wonderful opportunity for researchers to share ideas and learn from each other. Thank you to everyone who attended for making the event such a success.
Find out more about the SDRC 2019 conference by clicking here
You can watch the presentations again on the videos below, as well as some photographs of the day.